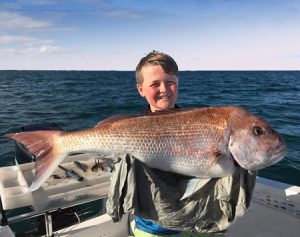 Corio Bay/ Bellarine Peninsula
On Sunday afternoon Nick Stephens took his 12 year old son Lachie out off Clifton Springs hopeful of catching a snapper. They caught five as it turned out, in 40 minutes of hectic action, the biggest measured 98 cm, weighed 8.5 kg, and was Lachie's personal best.
On Thursday afternoon, Andrew Phillips and George Uranus anchored up on the west side of the Wilson Spit hoping to catch a snapper or two, and on dusk they too did so, boating two fish, each about 2.5 kg.
Hoping for something larger though, they stayed on into the night and at about 11.00 pm – just as the tide began running off – they caught two more, one of 5 kg and another of 5.6 kg. Each of their four fish was caught on either silver whiting or squid.
Mike Windsor of Clifton Springs Boat Hire reports that good whiting catches continue with Jan and Allan Cowdery taking a respectable catch of fish to 39 cm just out from the boat ramp using strips of squid for bait. Also onto the whiting were Andrew and Tim Johnson who picked up bag limit catches off The Dell during office hours on Thursday.
Good size flathead have also been present said Mike, and among those to do well on these were Chris Bowan and Luke Andrighetto who took fish to 45cm about half way out to the channel from the boat ramp.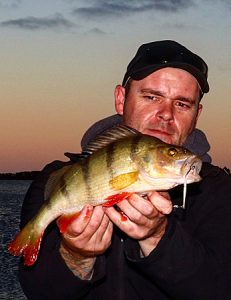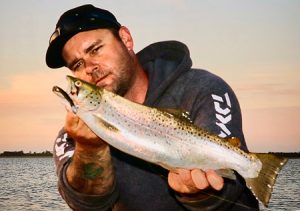 Freshwater
Last week, Michael Evans fished from the rock wall adjacent to the Wurdiboluc Reservoir car park, continually casting various lures well into the evening. His catch included a 50 cm brown trout that took a 3# Ecogear power shad and a 42 cm redfin that took a Nories Wasaby spoon cast over the shallow weed beds nearby.
Taking a run out to Lake Bullen Merri over the weekend, Simon Werner, along with son Jayden and his friend Jemma Thorpe, took a boat in tow, but with plenty of action along the bank they didn't bother to launch it.
Casting out unweighted pilchard fillets, they each took bag limit catches of chinook salmon to a kilogram or so that were chasing minnow right onto the shoreline.
John Clements of the Lake Purrumbete Caravan Park reports that trophy size brown trout are still on offer from the Lake as Alan Jones could attest after a successful weekend's fishing with mudeyes under a float. Alan caught a good fish of 2.7 kg on Saturday morning, and – with the same approach on Sunday morning – caught a beauty of 5 kg.
Alan also found time to fish nearby Lake Bullen Merri where he caught a rainbow trout of 1.8 kg and three chinook salmon.
Portland
Bob McPherson reports that there may be kingfish on offer after Chris Stone caught a small one on a pilchard from the Lee Breakwater at the weekend.
Snapper have also been caught including one of 6.5 kg that Michael Loats caught from the breakwater on a strip of squid.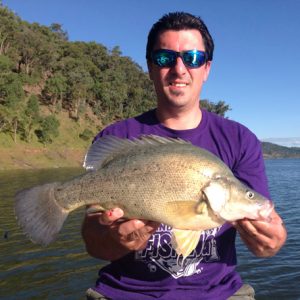 Ron asks:

Geoff, can you give me any guidance as to the proper use of a bubble float? I have asked various folk and received conflicting answers.
Ron, bubble floats continue to be used in various ways that differ from their intended purpose, hence your conflicted answers: An egg-shaped bubble float measuring say 30 X 40 mm, and featuring a displaceable tapered tube which allows water to be drizzled into the float to provide enough weight for casting, is the most useful design and size.
Bubble floats are threaded onto the line to which a second, much smaller float is threaded, and then fixed in position by crimping on a small split shot onto the line each side. This small float acts both as a bottom stopper for the bubble float and as a bite indicator, usually a metre or so above the hook.
When the bait is taken, the bite is signalled by the movement of the small, fixed-float only. This is because, when rigged in this way, the fish can pull line freely through the bubble float without resistance. Any appreciable movement of the bubble float when a fish takes the bait is symptomatic of incorrect rigging.