Paul Rahman has had a great deal of experience fishing the Twizel Canal system in New Zealand and has caught a good many trophy size fish in doing so. He now works part time as a guide on these waters and may be contacted on silverraider@hotmail.com

Fishing the New Zealand Canals * * * Paul Rahman
News of colossal trout being caught from the Twizel and Tekapo canals on New Zealand's South Island has spread world-wide. These bodies of water, which are kilometers in length and interspersed with nine different dams, are a major power infrastructure for the South Island, and for a large portion of the North Island as well.
These canals produce an extremely high flow of well oxygenated water all year round and have been locally named; Tekapo Canal, Pukaki Canal, Ohau A, Ohau B and Ohau C. All are well stocked with trout, both browns and rainbows, both reaching truly large sizes.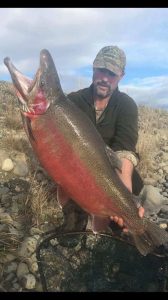 The canals are also used for farming salmon which are secured in pens within these canals until they are large enough to be harvested and distributed, both locally and world-wide, as a product judged to be of impeccable quality.
The trout take advantage of these salmon farms, both as cover, and as a food source as they gather beneath these netting enclosures to feed on the substantial quantity of fish pellets that the salmon miss: This situation being responsible for producing the colossal trout for which this system is noted.
The approach for catching these beauties differs substantially from what you might use in your local streams, rivers or lakes. This is because these fish are well fed and rarely show the aggression attributed to these species elsewhere; a fact that has left some otherwise capable anglers disappointed.
These fish have been presented with all manner of offerings, which has resulted in them being wary of lines testing more than 6-8 lbs, an issue that raises significant angling challenges should an extra large fish – like a 30 lb fish – be hooked: The current world record brown trout of 42 lbs came from these canals, something that makes you wonder what lurks within these waters.
Trout in these canals begin spawning in May, continuing through until late October, the latter being the best time of year to connect with the bigger fish, which – while they seldom leap clear of the water – are an awesome sight when spawning along the canal banks.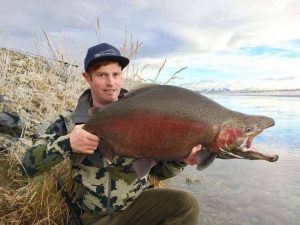 Overall, the canals are unsurpassed for trophy size trout. However, acquiring the services of a canal fishing guide can make all of the difference between a frustrating day and a trophy size catch because the biggest fish are by no means the easiest to catch.